Real Estate Ownership certificate in Turkey
Tapu is a real estate ownership certificate issued in the Cadastre Directorate at transfer of ownership rights, it is the main proprietor's document according to the Turkish legislation.
The client shall get Tapu of red colour if she/he buys real estate at a residential complex, hotel or commercial real estate, or blue coloured Tapu - in case of purchase of land property or a garden.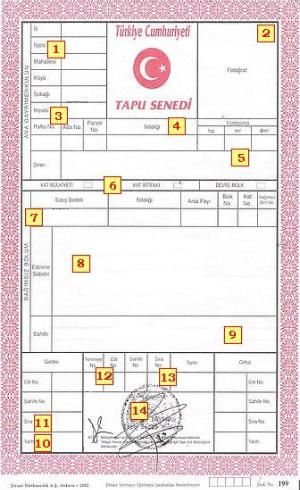 All data mentioned in Tapu

1.Address of the land district where the real estate is located 
2.Passport-format photo (2 coloured photos are needed for the registration) 
3.Information on land property registration within the Cadastre Directorate 
4.State of the land property (from Cadastre Directorate information)
5.Measurements of the land property that belongs to the new owner (in proportion to measurements of the purchased real estate)
6.State of the real estate that belongs to the new owner (ownership type) 
7.Cost of the purchased real estate 
8.Information on the previous owner (-s)
9.Information on the new owner (-s)
10.Date of the real estate acquisition by the previous owner 
11.Tapu number at registration of the previous owner (changed at each ownership right transfer) 
12.Registration data of the new Tapu document
13.Date of real estate acquisition by the new owner 
14.Signature of an authorised person and stamp of the Cadastre Directorate
The buyer gets Tapu after the last payment, all real estate transactions are controlled at the state level and take place at the state institution - Cadastre Directorate (Tapu ve Kadastro Genel Müdürlüğü).
At the Cadastre Directorate you can receive all information on property, check real owners of the property, check whether there are any debts on the real estate.